News
13 December 2019
Keeping Nova Scotia, Newfoundland And Canada Connected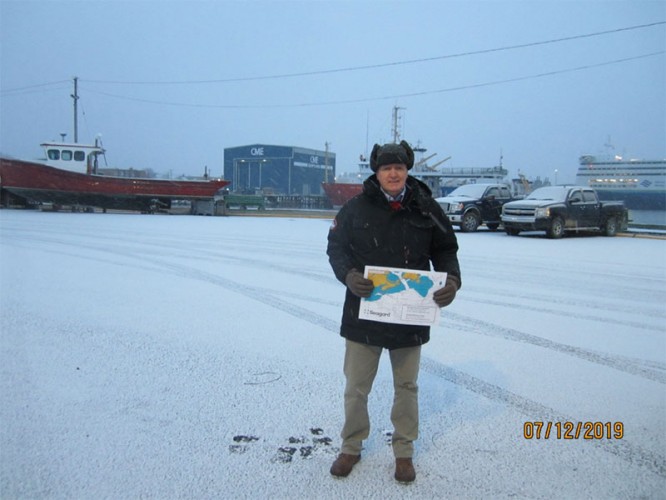 Our reach is truly global and sees our marine liaison team travel to many countries to liaise with local marine stakeholders, from fishermen and port authorities to government agencies.
These travels have a positive effect with the Subsea Cable industry and are recognised for their initiative in talking to other seabed users to avoid snagging situations at sea. Preventing situations like this protects the fishing vessel and crew as well as the subsea cable.
Seagard are now well known in North America which means we always have a warm and friendly Canadian welcome whenever we visit. These liaison trips always lead to positive discussions with the Canadian fleet, leading the world in cooperation with subsea cable operators. They are always eager for new information and we provide them with cable charts, information and 'fishing plotter compatible USB sticks' that loads the information directly onto their ships fishing navigation systems.
The photograph at the bottom of this page shows Seagard marine liaison officer Aaron on the quayside in the fishing port of North Sydney, Nova Scotia in minus 12 conditions. Brrr. It was a good day and we provided all of the scallop fishing boats with charts, cable information and USB sticks, updating them on the power and telecoms cables that connect Nova Scotia to Newfoundland.
No matter where in the world fishing, anchoring and subsea cables come together Seagard will have marine liaison personnel on the ground. We will be there to listen and answer any questions on cable protection.
The photograph above shows scallop fishing boats in the Port of Lunenburg Nova Scotia.
We visit the owners every year and always receive a warm Canadian welcome. They have the coordinates of the telecommunications cables that cross Browns Bank, a rich scallop fishing ground. The Captain's lead the world in avoiding cables and are aware of their importance in keeping family, hospitals, schools and offices connected and of course, the worldwide trading of fisheries products.
Keeping North America connected to Europe and keeping the world connected.
Seagard always on watch 24/7.