News
7 November 2019
For a Few Scallops More.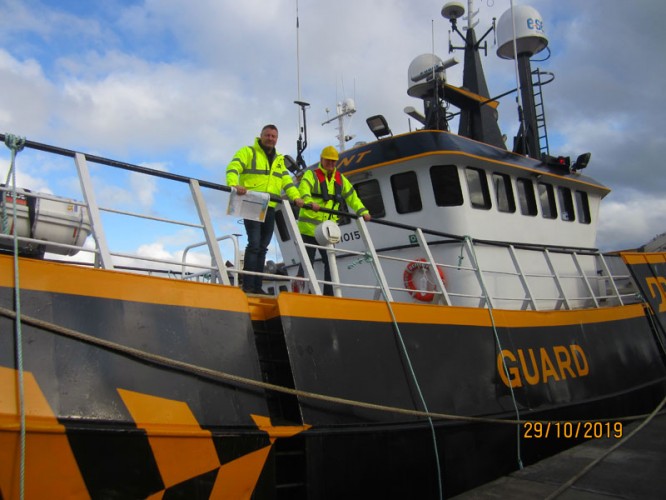 November.
A month famous for the sugary fallout from Halloween.
For fireworks and bonfires.
For Christmas preparation.
And for - of course - Scallops!
The King Scallop Season.
The King Scallop Season, in the beautiful Irish Sea, officially started less than a week ago
On Friday 1st November 2019.
And along with this season comes a busy time for our Marine and Fisheries Liaison Officer and his team.
Investment Protection.
There are countless millions invested in subsea cables in the Irish Sea.
And it is important that Scallop Fishing Vessels are made aware of their location.
Otherwise, anchors, nets and other fishing gear present an immediate and dangerous risk.
1 Objective. 7 months.
Even before the annual 7 month long King Scallop fishing season starts, our Liaison Officer visits ports, boards vessels and meets with and talks to the fishermen themselves.
The one objective is, of course, the avoidance of cable strikes.
Increased Competition.
Scallop quotas (catch allowances and initial daily catch limits) have being cut by 20% in the last 12 months.
The result?
Scallop availability gets lower - and so the stakes for the fishermen get higher.
Here at Seagard we help to ensure that increased competition between vessels does not result in proportionate increases in cable-related incidents, potentially caused by the carelessness that additional urgency can so often bring.
Knowledge is everything in situations like this. But only if it reaches the right people and in a timely fashion.
So that's Seagard's primary focus in this geography, for one of the annual fishing calendar's most important periods.
Scallops as well as turkey for Christmas?
Well, if Seagard have their way - the answer will be a resounding 'yes'.